Discography
Mel Green: Buy Music

About "I'm Taking My Time"




"Who is this South African stranger with so much talent, to have created such musical and auditory perfection?" I thought I had a pretty good handle on music and performers from the far flung corners of the folk music scene. Rarely did I receive a CD out of the blue that so moved me. I was floored. I wanted to learn more about this well-traveled South African stranger." 




Roger Deitz, SingOut! Magazine 
After listening to Mel's CD "I'm Taking My Time"




"A terrific musical sense, an evocative sound, and a classic folk voice!" 

Nick Noble, WICN-FM, Worcester, MA 





"A unique neoclassical/folk/baroque style...Variety in the instrumentation and the overall sound. Mel's voice is clear and true... This CD is a beautiful end product!  Nice work." 




Mac McLanahan, Artistic Director, Rose Garden Coffeehouse, Mansfield, MA
"This latest album is a gem, full of songs that reverberate long after the CD has finished spinning. We give it 4 out of 5 stars!"

 

Maverick Digital Music Magazine, UK



CD is available direct from mel_green_1@hotmail.com
$10, plus S+H 
Please inquire for overseas mailing rates. Transactions via PayPal


Mel will reply via email with current S&H rates
Now, also available for download on Bandcamp!
---
Mel, Mel & Julian on CD!
Back in the 60s, Mel Green was a founding member of South Africa's top folk trio, Mel,Mel & Julian,
and this album originally recorded on the CBS label and formerly titled "Songs about mines, people, places and one train". Julian Laxton was hired to play lead guitar for this album, and the results turned the folk scene on its ear at the time!  Just about to start a new contract during holiday season at one of South Africa's finest hotels, 
Mel &Mel invited Julian to join the group and they never looked back! 

The group was signed to CBS South Africa at the time and they went on to record two more superlative sold-out albums. Their second and third albums, "One More Town" and "Miscellanea" which were re-mastered, but have never been re-issued on CD...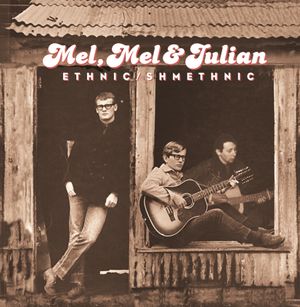 Katy Cline   2.The Water is Wide   3. Little Beggarman   4. Ox Drivers Song   5. Ramble Away   6. Gypsy Rover   7. Mary Anne   8. Irish Rover   9. Sinner Man   10. Van Dieman's Land   11. Hangman  12. Let Me Fly  13. Banks of the Ohio

Originally titled "Songs about Mines, People, Places and One Train"  
the song collection has been re-titled  

"Ethnic/Shmethnic".   




Get your's for only $10 + S+H in the lower 48 states (S+H overseas will vary)
Please inquire or — To purchase direct contact Mel at mel_green_1@hotmail.com 
about your CD purchase request.
Mel will reply with current shipping and handling rates in the USA or overseas.
Tracks from "One More Town" and "Miscellanea"
are available for download in the Song Downloads drop-down section