Discography
Mel Green: Buy Music

About "I'm Taking My Time"




"Who is this South African stranger with so much talent, to have created such musical and auditory perfection?" I thought I had a pretty good handle on music and performers from the far flung corners of the folk music scene. Rarely did I receive a CD out of the blue (and sleeve) that so moved me. I was floored. I wanted to learn more about this well-traveled South African stranger." 




Roger Deitz, SingOut! Magazine 
After listening to Mel's CD "I'm Taking My Time"




"A terrific musical sense, an evocative sound, and a classic folk voice!" 

Nick Noble, WICN-FM, Worcester, MA 





"A unique neoclassical/folk/baroque style...Variety in the instrumentation and the overall sound. Mel's voice is clear and true... This CD is a beautiful end product!  Nice work." 




Mac McLanahan, Artistic Director, Rose Garden Coffeehouse, Mansfield, MA
"This latest album is a gem, full of songs that reverberate long after the CD has finished spinning. We give it 4 out of 5 stars!" 

Maverick Digital Music Magazine, UK




CD only available direct from mel_green_1@hotmail.com




$10, plus S+H 




Please inquire for overseas mailing rates. Transactions via PayPal
Mel will reply via email with current S&H rates
 
 

 

---
Mel, Mel & Julian on CD!
Back in the 60s, Mel Green was a founding member of South Africa's top folk trio, Mel,Mel & Julian,
and this album originally recorded on the CBS label and formerly titled "Songs about mines, people, places and one train".
Note: Julian Laxton was hired to play lead guitar for this album, and the results turned the folk scene on its ear at the time!
Just about to start a new contract during holiday season at one of South Africa's finest hotels,
Mel &Mel invited Julian to join the group and they never looked back! *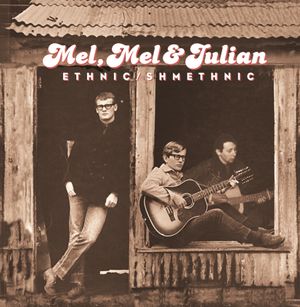 "Ethnic/Shmethnic"* only $10 + S+H in the lower 48 states
Purchase direct by contacting Mel at melgreendesign@gmail.com or:
Please inquire about your CD purchase request to:
Mel Green, 56 Bennett Street, Brighton, MA 02135
Mel will reply with current shipping and handling rates in the USA or overseas.
*The group was signed to CBS South Africa at the time and they went on to record two more superlative sold-out albums. Their second and third albums, "One More Town" and "Miscellanea" which were re-mastered, but have never been re-issued on CD... but,
Tracks from "One More Town" and "Miscellanea"
are available for download in the Song Downloads drop-down section