BIOGRAPHY
MY EARLIEST MEMORIES...
are of warbling along to hits of the 40s and 50s on the radio with my mother who always seemed to be singing. My younger twin brothers also sang along in our car (which did not have a radio.) I sang hymns and anthems at school assemblies, gleefully singing popular tunes with altered lyrics supporting my high school rugby team, and eventually for my classmates when I picked up a guitar from a still-life arrangement at art school in Cape Town...
... I borrowed a friend's f-hole guitar to ward off boredom after completing homework assignments at art school. "Malaguena" was the first tune I figured out by ear, and popular songs of that time soon followed.
One summer afternoon sitting on our apartment balcony I played guitar and sang, earning applause from a girl across the way. Ever since then I practiced and soon discovered Folk Music after transferring to the Johannesburg School of Art.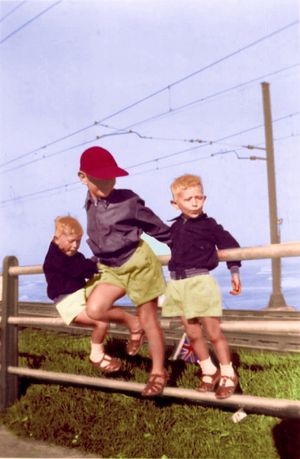 I was soon hanging out at the Troubadour Coffeehouse in Johannesburg, almost every night, and became a waiter to be there all the time. All the while studying the guitar-picking styles of the singers playing on that little triangular stage with the hangman's noose suspended from the procenium.
I watched and studied the regular performers very closely: Des Lindberg and Keith Blundell, Leon & Mike, and others who stirred the attentive audiences. One evening I sang along to "Go tell it on the mountain", my loud harmony prompting British import Gary Bryden to pause in mid-song to invite me up on stage to sing with him. SInce then I never looked back!
Soon after, I persuaded my art school comedian friend Mel Miller to join me at the Troubadour ... we sang our entire repertoire... [only three songs] for manager, Keith Blundell, who promptly hired us to take over the Wednesday evening slot, which was soon to be vacated.
We played hooky, "bunking" art school for a month, and even then, when we took the stage at our first gig, we found we still had too few songs, so Mel Miller spontaneously filled in with jokes and extremely funny stories he had been telling at art school. And that's how our reputation as a folk-comedy duo took root.
Within a year, after we had appeared in the first Johannesburg Folk Festival concerts, we were signed to Columbia after being recorded with all the other performers for the compilation concert album. Soon after that, we were persuaded to leave our day jobs to go pro, taking a residency at South Africa's top hotel, appearing as Mel & Mel 6 nights a week, playing totally acoustic!
Our success on a nightly basis, of filling our own venue in the hotel, a large room which could accommodate about 100 people, prompted us to hire Julian Laxton as our lead-guitarist for our next contract in Durban, and in East London. We made three albums with him and enjoyed a short but stellar career, during the time of the Beatles, Stones and the other 60s greats. (That's the short version of our group story... for more of that very eventful tale, just click on the Mel, Mel & Julian links under the Biography dropdown...)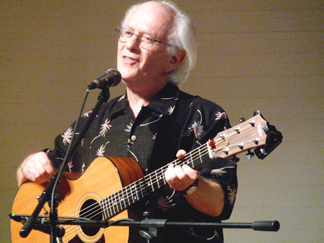 Over fifty years later, I am still performing, or as they say, SInging Out...
Writing songs and picking as enthusiastically as ever... I play solo, one guitar, one voice... and now and again, to keep me on my toes, when musical friends happen to be around, I'll ask them to add harmony or instrumental embellishments. Occasionally my buddy from The Maple Street Project, Eric Luskin, accompanies me on bass guitar.
Apart from my first solo recording venture in the USA, for over 25 years I have been writing and recording with The Maple Street Project, a folk-rock quintet I co-founded in the western suburbs of Boston, now disbanded after 25 years! It was a wonderful collaboration and hotbed of inspiration for my own songwriting efforts... Thanks guys!
Since my early days in the 60s with Mel, Mel & Julian, an amazing trio which I was so fortunate to grow with. I am spoiled. Finding talented collaborators like them is a never-ending quest.
I would love to form a small band, perhaps adding sax and flute and percussion, and even a percussionist, attempting to re-create the backdrop from the recordings of my CD, "I'm Taking My Time". Truth be told, playing with other fine musicians is very inspiring, if only because I know the attempt too recreate what I originally conceived often produces satisfying results.
However, in a time when busy lives, careers and family take precedence, as it must, I have "woodshedded" on my own... making time to rehearse so as to play effectively as a solo performer.
The more I do so, the more I find my songs taking on "a life of their own", which occasionally evolve into set pieces with more meaning and effect, especially when I play them in front of various audiences.
I encourage you (if you've read this far... thank you!) to watch this space for more developments.
 Cheers... Mel
A SHORT BIOGRAPHY 
Mel Green went solo in 1967... his smooth tenor vocals soar,  his modest entertaining ways endear him to his audiences.
To get there, fate threw him some amazing opportunities... 
As a young man he found that singing - in public - was the cure for his stutter, and so he had found his way to a very special freedom, a way to express, create & perform in public, that would have been incomprehensible during the self-conscious, shy days of his youth. 
Mel grew up in suburban Johannesburg, South Africa during the 50s and 60s and sang since he was a toddler. He picked up guitar at Michaelis School of Fine Art in Cape Town, and when he transferred to art school in Johannesburg he refined his fingerpicking after taking a job as a waiter at The Troubadour Coffeehouse by closely observing the players on its little stage .
He soon met Mel Miller, and as Melvyn & Melvyn were soon singing for their classmates and soon got a chance to audition at the Johannesburg Troubadour, where they were offered their own Wednesday night gig. They were very entertaining, mixing their sets with well-sung duets and comedy.  Mel Miller was the comic while Mel Green was the "straight man". 
After graduating, he was working as a junior art director in one of city's largest advertising agencies, but he soon gave that up to go professional with his art school buddy, singer and comedian Mel Miller when an unusual opportunity came their way.
After they were seen at the early folk festivals they were offered full time employment at South Africa's only five star hotel, The Edward, a gig that just could not be refused, at the height of the folk boom. 
Their successful first residency as Mel & Mel at Durban's top hotel led to another longer gig there... Recording obligations followed, for which they recruited Julian Laxton to play lead guitar on their first LP. 
Another longer residency followed, but realizing that they could be more appealing to their growing audiences, the guitar prodigy was invited to join the band which was dubbed  Mel, Mel and Julian. Their new recruit, Julian Laxton could play anything! 
 Mel, Mel and Julian, were often described as that country's answer to The Kingston Trio/Smothers Brothers. Their marathon shows mixed well-played, well-sung folk music with interludes of hilarious comedy.  The group boasted residencies at top hotels, performing nightly to capacity audiences in South Africa all around South Africa from 1963 through 1967. 
Their brief but successful career took them to the top of their genre. Their reputation as top notch entertainers extended their recording contract and they recorded 3 LPs for Columbia, before they broke up in 1967. 
Mel went back to work in Advertising, although his reputation as a fine singer soon got him invitations to perform at The Troubadour, The Gorrelpot (later named The Minstrel Club after a move) in Pretoria. He took part in Folk Festivals in Johannesburg, Pretoria and Durban, as well as concerts in Cape Town, folk club appearances in Bloemfontein, and in Lourenco Marques, Mocambique. He recorded a single for CBS which supported the theatrical review "What is Love?"  in which he acted and sang and which ran for 3 seasons, twice in Johannesburg and once on tour for PACT around the Northern Transvaal. 
Emigration to the USA
In 1970 he married his American fiancee and he emigrated to the USA in 1970, stopping along the way to play at the Cecil Sharpe House (English Folk Song Society) in London, Greenwich Village coffeehouses like The Gaslight and Gerde's Folk City, and he did cabaret in the Poconos. 
The marriage was brief and Mel settled in Cambridge in 1972 where he often played at the mid-week Ceilidh at Club Passim (formerly Club 47).  He impressed the owners and he was invited by Bob Donlin to open for Sandy Bull, the acclaimed world-music multi instrumentalist. Impressed by Mel's songwriting another opening gig followed, this time with the great Rosalie Sorrels. 
Despite encouragement from the late Bob Donlin of Club Passim to go solo and "scuffle" around the country doing solo gigs, he chose marriage instead and eventually his growing family and a full-time job in Ad agencies, and then when he opened his own graphic design studio kept him busy and not as actively involved in music. 
Still, he continued playing and honing his music and his songwriting skills. The 80s and 90s found him singing, playing and writing songs with a duo, which soon became a trio called The Maple Street Project, with two friends he met at his Temple in Needham, during the mid-90s they added a bass player and a drummer to fill out their sound. They performed and wrote songs together well into the 2000s. 
In 2000, Mel decided to seriously attempt to re-enter the local Boston folk-scene, and since then he has been busy on the open-mic scene in and around Greater Boston... another great resource was found when he attended the Summer Acoustic Music Week, (sponsored by WUMB-FM radio) which is an acoustic music camp for like-minded people up at Lake Winnipesawkee in New Hampshire, where his instrumental and writing talents were honed. 
Mel was always a pretty good folk guitarist, and was influenced very early by the wide array of folk music...  and by learning new things at music camps. His songwriting has come to the fore, and he has picked up other instruments, as well as other styles of music. He now plays some Mandolin, he still plays Harmonica, and also Electric Bass Guitar and Ukulele. 
All this encouraged him to plan a solo CD, his first... which was completed in 2010. 
Since releasing that CD ("I'm Taking My Time") in June of 2010, Mel's music has resonated with audiences/ His CD has had airplay on radio stations in the USA, the UK, Europe and Australia. 
He continues playing Solo Gigs
and taking part in the Greater Boston Open Mic scene. 
For more booking information... 
Please request Mel Green's One Sheet/EPK by email at melgreendesign@gmail.com 
or click on the Press Kit Link under the Contact link.