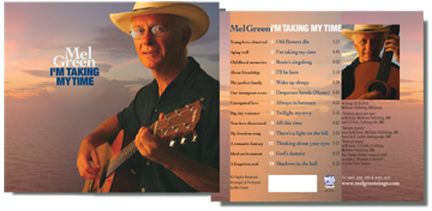 Mel's solo CD is now 5 years old and still holding up well... if yo haven't heard it, by all means listen to the sample tracks on the player here,m but when played on a good stereo system all the nuances jump out at you. For a Do it yourself project it was produced very well.
Mel Green completed his first solo recordings in July 2010... and the result, "I'm Taking My Time", a purposely varied collection of songs. Varied genres... folk, ballads, folk-rock, blues, pop and even South African flavored beats and instruments!
All of the songs are originals, and two were co-written, with bass player Eric Luskin ("Twilight Mystery" has currently made it to #25 on the Reverbnation local charts!)... and "There's a light on the hill" recorded with Bob Littman and George Pultz, friends and co-members of their folk rock band, The Maple Street Project.